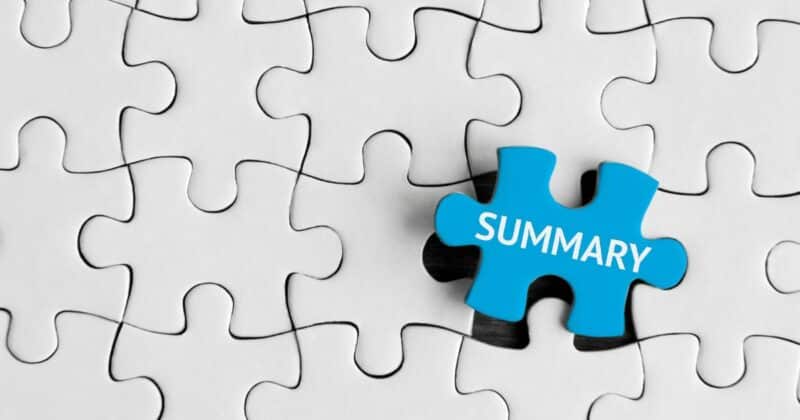 Information isn't really hard to come by these days. We're generating millions of terabytes of data daily. If you're a knowledge worker doing research, the challenge isn't the lack of information anymore. It's more of how tedious it has become to sift through the vast amounts of data in order to get the information that you need.
You'd likely have to comb through dozens of web pages to be able to do a thorough job. You'd have to bookmark pages, highlight relevant passages, take notes, filter information, and summarize what you've gathered. It's quite a time-consuming process. Unfortunately, completing research projects quickly has become quite critical these days, whether you're a student exploring a particular topic for research or a business strategist scouting for opportunities. It's a good thing that AI tools are now available to simplify research for knowledge workers.
One tool that can help you do online research is Casper AI. It's a Chrome browser extension that allows you to summarize information on any given web page for research projects using OpenAI's GPT large language model.
Casper Key Features
Casper can help you do the following:
Summarize Web Content
Casper can generate a summary of any web page with a click of a button. There are also options to refine the summary by simplifying, elaborating, or even shortening the results. Choosing "Explain like I'm 5" creates a summary that's stripped off complexity with the resulting summary shorter and simplified. It's pretty helpful if you simply want to make sense of something highly technical content.
Generate Insights
Aside from summaries, Casper can also generate insights. It provides a commentary on the key points in the article and expounds on them. Casper AI can also provide counter arguments, where it tries to find gaps in the content or raises counterpoints to the article's assertions. Both are quite useful since they give you a more solid grasp of the topic and points you to other related ideas that can broaden your understanding.
Format and Share Results
If you need to repurpose the summaries and insights, you can have Casper generate bullet points for you or even draft and email or a tweet. You can copy the results (which you can paste on another document or on your note-taking app of choice. You can also share your results via email or tweet.
How Casper Works
To use Casper, you have to install the Chrome plugin. It's available on the Chrome Web Store.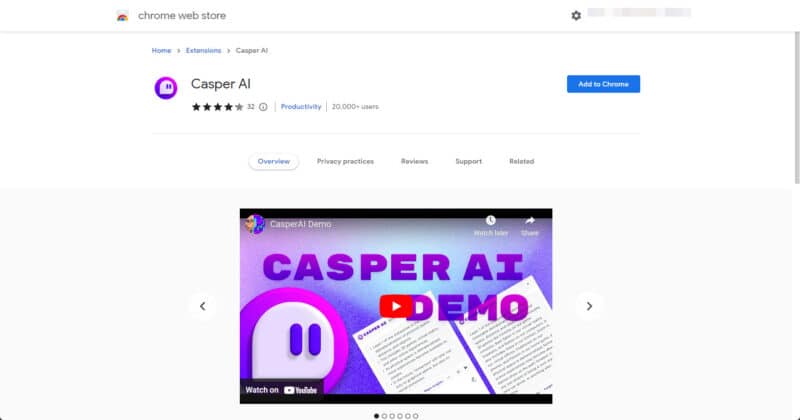 How to Use Casper
Once installed, you can pin the extension on your browser bar. You can access the tool through the bar or through the icon.
If it's your first time using the extension, you'll be asked to sign in using your Google Account.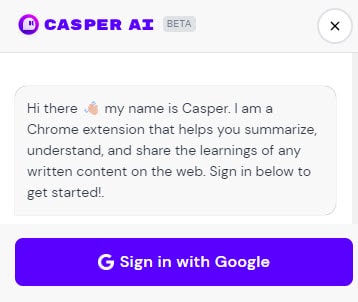 Next, Casper will ask who you are and what you intend to use it for like you can select "Student" for your role and "Research and study" for your purpose. This is supposed to help the tool come up with responses that are more in line with your purpose.
To create a summary, simply navigate to any web page. Click on the Casper icon in the extensions bar or through the floating Casper icon. This will bring up the Casper chat pane on the right-hand side of your browser. Click on the Summarize button to start summarizing.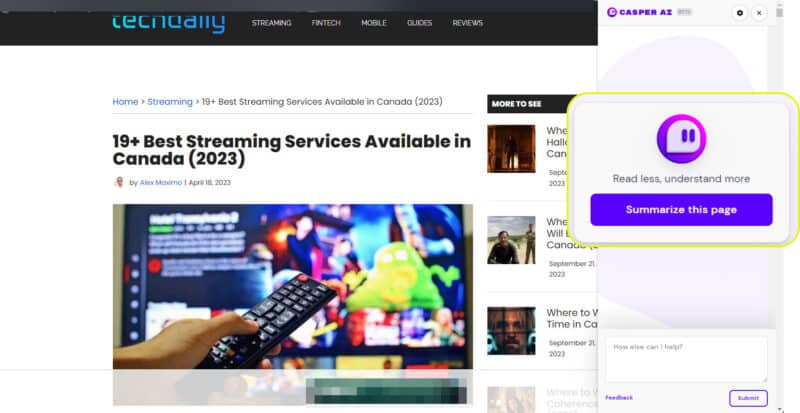 Once a response is generated, you can click on the other options such as Counter (to generate counter arguments) or Insights (to have Casper expound and elaborate on the subject). To shorten, lengthen, or simplify the summary, click on the more icon and select what you need. You can also choose to format or share the response.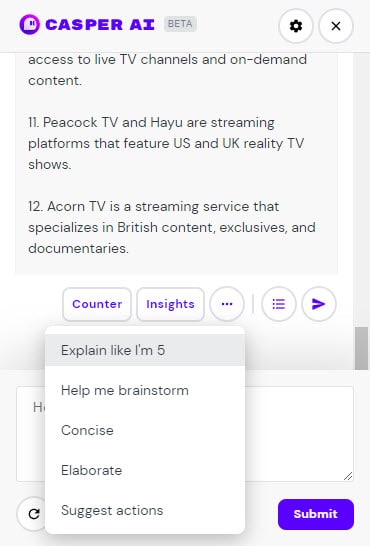 How Casper Performs
Upon trying Casper on a few web pages, we found it quite accurate. It was able to identify the key details on an article and provide a shortened version of the content.
We particularly like how the counter arguments feature expounds on. This is particularly helpful for researchers since it points out the topical gaps that you can then search for on other pages and sources.
However, you have to manage your expectations with the "Explain like I'm 5" feature. While it can easily handle content written for general audiences, it can provide overly simplistic (and possibly inaccurate) responses when dealing with highly technical topics and jargon-filled content.
Pros and Cons
After trying Casper out, here are some things that we liked and some that the developers can improve upon.
Pros
Cons
– Provides quick summaries of web pages
– Can simplify or expound the topics on demand through a chat interface
– Can be very accurate especially when processing well-written content
– Counter argument feature is helpful in filling possible content gaps the article has about the topic
– Brainstorm feature helps point users to other related topics to explore
– Custom prompts can help further refine responses
– Still in Beta
– Requires subscription for extensive use
– Insights and counter arguments can a few moments to generate
– Some key information may be missed if the web page isn't well-formatted
– "Explain like I'm 5" summaries can be too simplistic that key details can be lost
Pricing
You can create a free account with a Google Account. You can use it to generate a summary of any web page. To continue using the tool, you have to pay $7/month for the Professional Plan. This gets you unlimited use across multiple devices and access to premium features that will be made available in the future.
About Casper Studios
Casper is developed and maintained by Casper Studios. The company is co-founded by Jay Singh. Aside from Casper, the company is also working on other projects like "Sean" — a tool that allows users to get answers based on website content — and "Carl" — a tool that can help create AI generated resumes and cover letters.
Conclusion
Casper can serve anyone who needs to do research on any given topic. We like how the the tool provides relatively accurate summaries quickly and how you can refine the resulting summaries and responses with prompts. Being able to do all of these within a chat interface also saves plenty of time. Through the tool, researchers can focus more on making sense of the information rather than needing to go through each line of text within the web page.

Alex Maximo, our editor, helps us bring added snap to our content. He has written and edited books and articles on technology education and digital enablement over the past two decades. He's a huge advocate of free and open-source software.