If you want to deliver the widest variety of content possible to your clients/readers while making the wisest use of your time you need to dive into these AI Content Repurposing Tools. We have explored tons of them and selected the best for you.
Content creators now face the challenges of a highly-saturated and competitive environment. You need to maintain presence across various social media networks, push out more and better content than other creators, and you have to compete for dwindling attention spans of users who are already suffering from social media fatigue. No wonder content creators report feeling burned out.
One way creators are dealing with this is through content repurposing. This allows them to avoid creating content from scratch and tailor existing content when targeting different audience segments on different platforms. However, content repurposing still involves a lot of work. They need to revise content, perform additional research, and content editing.
Other challenges in repurposing include maintaining quality and originality, adapting content formats, consistency in messaging, addressing content decay, localization, language barriers, lack of novelty, SEO optimization, etc.
Fortunately, AI is now available to help with these tasks. Let's take a look at how AI is now being used in content repurposing and what tools are now available for content creators to use.
What is an AI Content Repurposing Tool?
AI content repurposing tools are applications and platforms that use natural language processing (NLP) and machine learning (ML) algorithms to analyze trends, perform content analysis, convert content format, assist personalization, translate language, and streamline other content repurposing processes.
Some AI content repurposing tools even use deep machine learning models like recurrent neural networks (RNN) or generative pre-trained transformers (GPT) to provide even more customization and generate more accurate and coherent outputs.
AI content repurposing tools can expand or shorten existing content into a similar format (e.g. textual, video, audio) or even go as far as converting it into another (text to audio, video to text, etc.) in just a few clicks.
Why Should I Use AI Tools to Repurpose Content?
Repurposing content without the help of AI is tedious and manual hard work. Trend research would require gathering data from multiple sources and analyzing them to spot trends. Content conversion would often require the same effort of creating content from scratch. AI helps perform many of these tasks quicker. Platforms can easily scan social networks to spot trends. AI tools can easily create articles and videos from just a few prompts.
In addition, they can even bring in new skills that you may not have. With AI's image recognition, speech-to-text and NLP, you can even have the opportunity to customize, convert and tailor your content automatically. It saves a lot of time and offers even more accurate and coherent outputs. Advanced NLP algorithms can identify and understand important context, intent, themes, and sentiments in existing content.
Some AI content repurposing tools have built-in SEO features to better understand audience behavior and search engine algorithm. This ensures that your repurposed content will reach its targeted audience and increase engagement potential. The continuous learning potential of AI tools also offers an opportunity for single-language and cross-language translations of converted content.
AI Content Repurposing Tools
Let's take a look at some of the interesting AI content repurposing tools that are now available for you to use.
Automata
Automata is a repurposing tool that can convert existing content to multiple different formats. It can also adjust its writing style to fit a specific platform. Using its marketing knowledge base, it can find multiple old content pieces you've made about a specific topic for you to repurpose.
It can also combine several articles and convert them into a single output through its multi-source content repurposing feature. Automata can support at least 150 input/output combinations for repurposing and ensure each version is search engine optimized.
How Does Automata Work
To use it, you need to sign up to receive two free credits of its basic account. You can then create new content.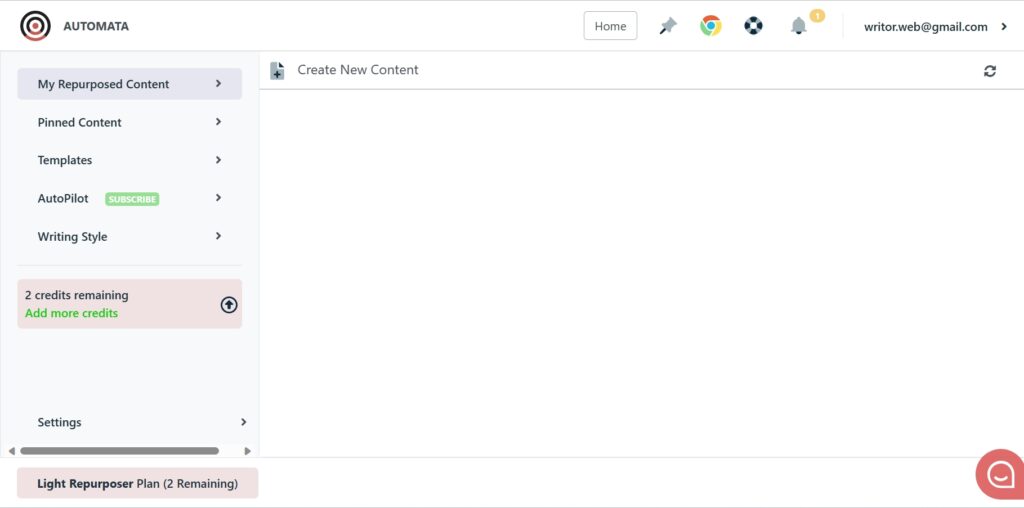 Here, we've chosen one of our published articles about prompt engineering as input and chose content insights, Twitter threads, and LinkedIn posts as output.
We've also explored its repurposing templates wherein it shows popular content conversion formulas and we've noticed that it only offers video-to-blog combination and not the other way around. All of its output options are in textual format.
On the first try, we did not adjust the tone of the writing style for the output. Despite the lack of customization, it delivered a pretty standard result.
On one hand, the LinkedIn post was a bit shorter than expected. It is compelling, conversational, and readable. On the other hand, it has minimal grammatical errors and it is barely informative. This output would better serve as an anchor post for the whole blog instead of the standalone repurposed output.
The Twitter thread is a bit chunky and monotonous in volume. It just summarized the whole content, and the tweets do not have a personality. Tweets should at least reflect the brand's voice or the influencer handling it, but it did not do any of that. The tone and writing style also feels very robotic.

Lastly, the content insights provided the most promising results. It offered a condensed SERP Analysis, competitor analysis, and backlink opportunities which are great for SEO.
On the second try, we customized the writing tone and style of the LinkedIn post and Twitter thread. We still used the same blog just to see if the results of LinkedIn posts and Twitter Threads would improve. We also replaced content insights with the executive summary and video ideas since they already provided a satisfactory result.
The LinkedIn post is still short and has minimal grammatical errors, but the content is more satisfactory. It isn't text heavy and the paragraphing has more variety. It isn't as informative, but it is more persuasive than the first one. The hashtags are pretty generic, but it only needs a little tweaking to further fit the brand.
The Twitter thread result is a lot better, too. It is less robotic with emojis, varying lengths of tweets and hashtags.
The executive summary was convincing, informative, and professional sounding. The quality of the content is ready for publishing, too.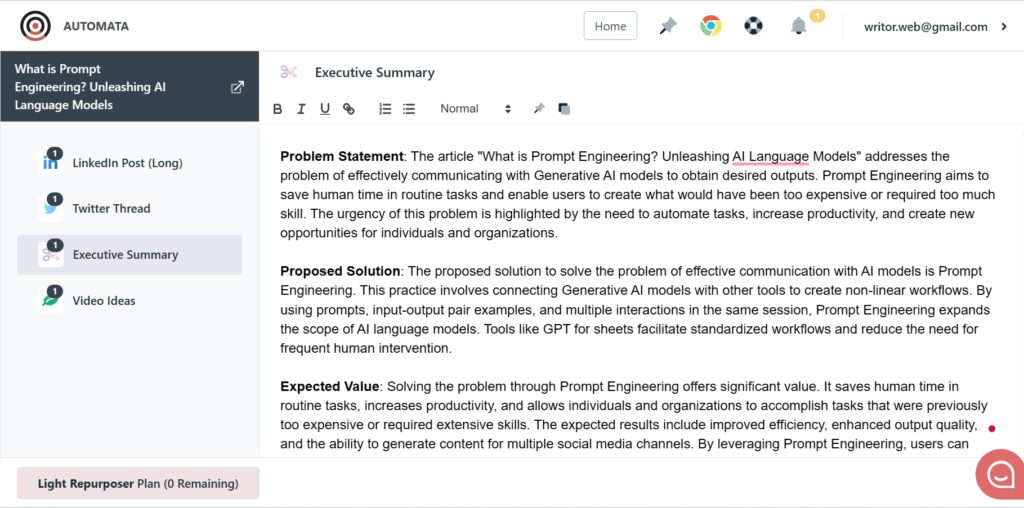 The video ideas also showed satisfactory results. It generated 5 video ideas which include a unique title and bulleted outline as a content guide. The video suggestions are all different and can be a good starting point for a series.
Pros and Cons of Automata
Pros
Cons

It is easy to use.
The app takes little time to repurpose content.
It can convert one content to multiple formats all at once.
The writing tone and style can be customized.
It allows users to further edit the generated content.
It supports special characters like emoji and hashtags.

The quality of the output can be a hit or miss.
It requires guides to further generate quality content.
It does not provide SEO audit tools to check repurposed content's potential performance.
It does not assist in trend research for evergreen topics.
The length of content produced may also be a bit short.
It does not offer video, audio, or other non-textual output options. Audio inputs aren't supported either.
Automata's Pricing
Automata offers two billing options: monthly and annual. Monthly pricing options include a basic account at $3/credit and a premium account at $49 per month. Automata offers a 35% discount for its annual billing option with the premium account priced at $32/month only.
2short.ai
2Short.ai converts long-form YouTube videos into shorts that you can post on Instagram, Facebook, Tiktok, Youtube shorts, and other short-form video platforms.
It identifies highlights in your long-form video and automatically edits it. It has center-stage facial tracking to keep track of active speakers in the video, versatile aspect ratios, built-in editing tools, automatic subtitling, and brand presets, and offers 1080p quality outputs. It can support at least 11 languages.
However, it can only process videos with captions (this includes closed captioning on YouTube) and thrives on videos with spoken words.
How Does 2short.ai Work
Using its free trial, we chose a random video on TED-Ed and generated shorts based on it.
After pasting the link, it would run a simple analysis on whether this video already has been repurposed into shorts. In this case, there is no repurposed version yet so we just proceeded with the next step.
It provided three sample shorts out of a 5-minute video ranging from 24-37 seconds. It also included a sample title and meta description for each short.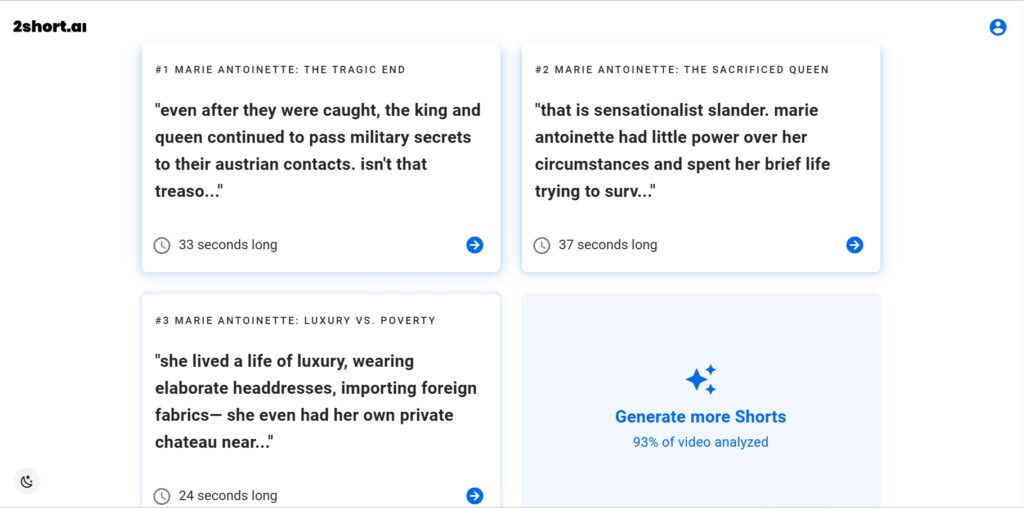 We clicked export on one of the videos and I was redirected to another page wherein we can further customize the short.
We tweaked some of the settings. We enabled subtitles, adjusted the size of subtitles to small, changed the subtitle placement to the bottom, and set subtitle splitting to 15 characters max. We also adjusted the length or change the placement of the trim to further make the short better.

The cropping of the result could be improved. Since it is only an animated video narrating an event and there are also rare instances wherein the characters are speaking, it was not able to track the main persona of the video well.
Pros and Cons of 2short.ai
Pros
Cons

It is easy to navigate.
It automatically identifies the key points of the video and divides them into shorts.
It suggests sample titles and meta descriptions.
It can support up to 1-min long video exports.
Generated shorts can be edited further.
It supports Youtube close captioning.
It supports 11 languages.

It takes some time to process.
It does not offer SEO audit tools to check the content's possible performance.
It does not do well with animated videos, narration, non-speaking videos, or videos without captions.
2short.ai's Pricing
It has four pricing options namely: Starter (free), Lite ($9.90), Pro ($19.90), and Premium ($49.90). The account type most suitable for you would vary depending on the volume of videos that you need to repurpose and the level of personalization that you wanted to see in your repurposed content.
Repurpose.io
Repurpose.io is a content repurposing tool that specializes in video and audio content. It uses a template system to streamline your repurposing processes and ensure that they contain your personalized touch to your repurposed videos. It also offers automatic publishing to various platforms to eliminate the need to manually download videos.
How Does Repurpose.io Work
After signing in, you will be redirected to this page. It has an interactive video tutorial to guide you on how to repurpose your content, enable automatic publishing, and set up your content calendar and brand presets.

To set up your workflow, you need to connect all your accounts on the connections tab.
After clicking Add new connection, a dialog box will appear showing you the various sites where you can source and publish your content. Each app is labeled on what type of task can it perform (e.g. source = input, destination = output).
After connecting your account you can go back to the menu and click 'workflow'. The workflow refers to the process of automation and publishing that you wanted the AI assistant to do.
Fill out all the necessary details to set up your account and it will automatically repurpose and publish your content for you. For free accounts, you can only convert your videos into audio or turn snippets into longer videos.
Pros and Cons of Repurpose.io
Pros
Cons

It is easy to navigate.
It streamlines the repurposing and publishing processes.
It does not require manual download of repurposed content.
It has a calendar feature for content scheduling.
It has a template feature to set up brand presets.

Checking the content before publishing would be impossible.
It can only support audio and video input and output.
Users cannot further customize the content after repurposing.
It does not have an SEO audit tool or SEO research tool to specifically choose videos that contain evergreen topics.
Repurpose.io's Pricing
They offer two billing plans: monthly and annual. Each billing plan has three types of account options: podcaster, content marketer, and agency. The podcaster account is priced at $12.42/ month, billed annually, and $15/ month, billed monthly. The content marketer account is priced at $20.75/ month, billed annually, and $25/ month, billed monthly. Lastly, the agency account is priced at $104.08/ month, billed annually, and $125/ month billed monthly.
Keyframes Studio
Keyframes Studio is a multi-purpose platform for video content creators. Instead of manually checking each video-sharing website's content limitations, it is automatically embedded into the app.
How Does Keyframes Studio Work
The platform allows you to try it out through a demo project and you don't even have to register. It should work on any web browser but it recommends using Google Chrome.
You can edit and create the video from scratch then adjust the application settings to make the features customized for the specific platform you've chosen. In this case, We've chosen Tiktok and used the presets available within the application.
For vertically aligned videos, it has motion tracking software to make sure that the cropping is effective in capturing the main object in the video.
Pros and Cons of Keyframes Studio
Pros
Cons

It is beginner-friendly.
The processing time is quick.
The features and limitations of each video-sharing are embedded into the app.
It has a large dataset of presets (music, fonts, subtitle options, etc.).
It can support up to 4 layers of overlapping elements in the video.
Users can customize every aspect of the repurposed content.

It uses a lot of memory and consumes a lot of data since it is a cloud editing software.
It doesn't automate the editing process.
It does not have an SEO auditing and research tool to ensure the repurposed content's performance.
It does not automate the input-sourcing process.
Keyframes Studio's Pricing
It has three types of accounts supported: starter, professional, and enterprise. All of the accounts can choose to be billed monthly or annually. A starter account costs $9-$12/ month, a professional account costs $15-$20/ month, and the enterprise account's cost varies depending on the type of custom features included in their package.
Vidyo.ai
Vidyo.ai is another video content repurposing tool. It offers automatic captioning, video resizing, video clipping, automatic video chapters, social media template set-up, and automatic scene change detection.
How Does Vidyo.ai Work
Vidyo.ai allows you to register for free.
After signing in, you can paste a URL to convert your videos. For this trial, we've chosen another random video from TED-Ed. Then, you can start adjusting your preferences.
It also has customized templates you can choose from.
After clicking continue, you would be redirected to this section. It repurposed the 8-minute video into six 56-17 second short clips that you can further customize. It also auto-suggested subtitles and shortened video titles.
If you don't like the shortened video, you also have the option to create a custom clip.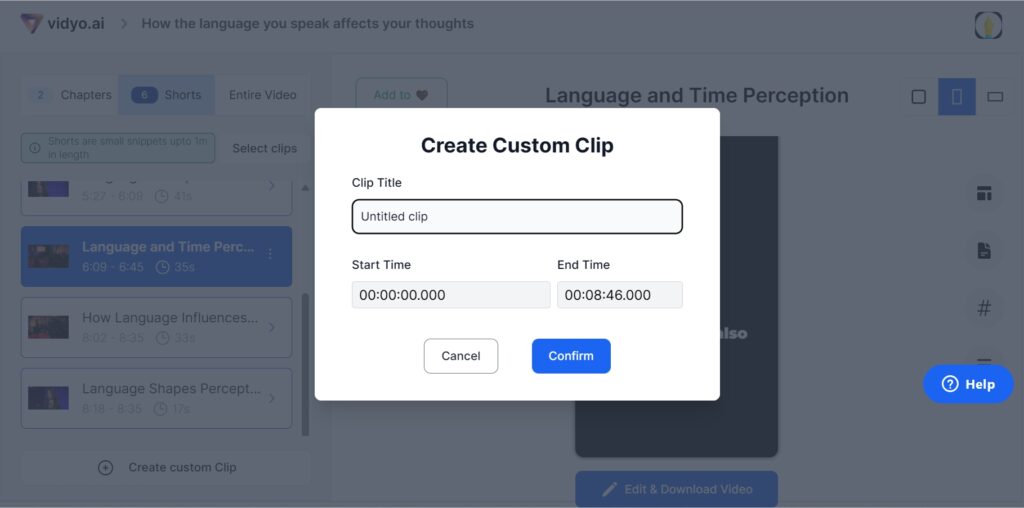 If you're fine with the output, you proceed by clicking the edit button below the preview of the shortened clip. In this section, you can further customize the clip according to your brand. Then, you can click "download" once you're done.
Pros and Cons of Vidyo.ai
Pros
Cons

It is easy to navigate
It offers cut scene and active speaker scene detection.
Users can add another media layer to the video (e.g. text, images, emojis).
The quality of output produced at the end of the process is satisfactory and ready for publishing.
It can support 1-min video export.

It only supports the English language.
Repurposing videos takes time.
It has a few in-app presets.
It does not offer SEO search and SEO audit tools.
Vidyo.ai's Pricing
Vidyo.ai offers a free basic account that can be upgraded to starter and pro. A starter account can cost $15/ month or $150/ year. Pro accounts, on the other hand, can cost an estimated $30/ month or an estimated $300/ year.
Product Comparison
| | | | | | |
| --- | --- | --- | --- | --- | --- |
| Features | Automata | 2short.ai | Repurpose.io | Keyframes Studio | Vidyo.ai |
| Ease of use | Easy | Easy | Easy | Easy-to-medium | Easy |
| Speed to repurpose | Fast | Fast | Fast | Fast | Slow |
| Type of output produced | Text | Audio/Video | Audio/Video | Audio/Video | Audio/Video |
| Customization Support | Complex | Simple | None | Complex | Simple |
| Input/ output combinations | Complex | Simple | Complex | Complex | Simple |
| Quality of output | High | High | Unavailable | Average | Average |
| SEO search | Available | Unavailable | Unavailable | Unavailable | Unavailable |
| SEO audit | Unavailable | Unavailable | Unavailable | Unavailable | Unavailable |
Recommendation
We find that the title of best AI content repurposing tool would go to both Automata and Keyframes Studio, depending on what content you create.
Automata performs best for writers who wanted to repurpose their written content. It offers a lot of textual input/output combinations which are great for content ideation and content generation. It also supports long-form and short-form content versions. Users can customize the writing tone and style to better fit their brand and match their target audience. Automata offers a condensed SERP Analysis which I did not find on other content repurposing tools. However, it does not support conversion outputs other than texts.
Keyframes Studio is great for video content creators. It is an all-in-one tool for creating, editing, and repurposing videos, with several customization support features, stock media, and AI-automated editing tools (motion tracking, auto-subtitling, etc.) that can improve the quality of your repurposed video. It also provides a guide for each video-sharing platform's content limitations.
Conclusion
Content repurposing is an age-old strategy for most content creators to increase their audience reach and engagement. However, with the fast-paced competitive digital marketing industry, it may be hard for content creators to keep up.
AI content repurposing tools are efficient in streamlining repurposing processes. They help cut back time and costs on research, content analysis, competitor analysis, market segmentation, editing, publishing, and more. They also help keep track of identity, current marketing campaign strategy, voice, overall theme, and message throughout your whole content portfolio which are all crucial in promoting your brand across different media channels.

A formidable prompt engineer, Dan Sanz blends a deep understanding of AI with practical insights into human-machine interaction. His work in prompt engineering in combination with years in the field of Data Science, are helping to redefine the possibilities for AI communication and engagement.