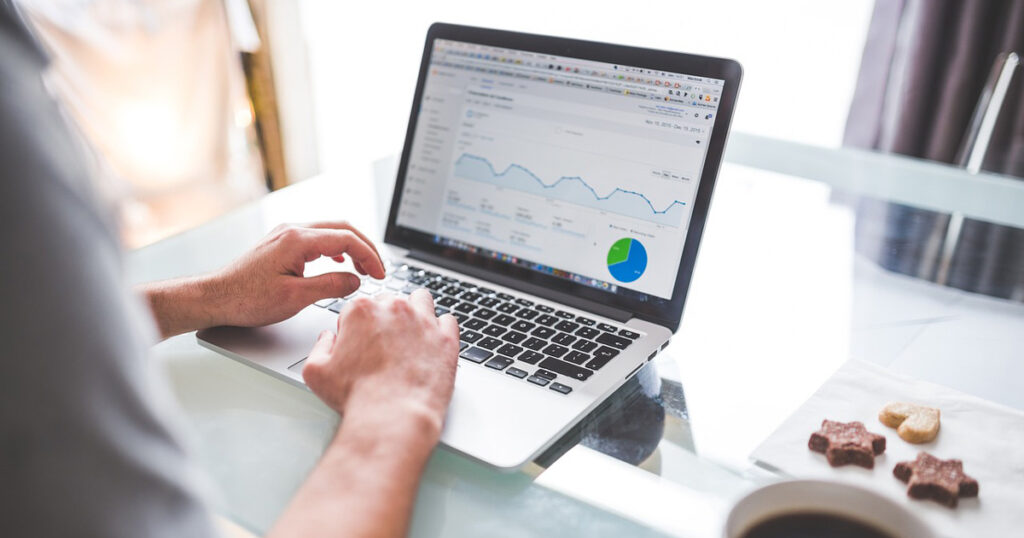 Competition in search engine results pages (SERPS) is fierce due to the immense number of websites vying for top rankings to gain visibility. With limited spots on the first page, businesses invest heavily in SEO strategies to outperform rivals.
When it comes to creating competitive search optimized content, length has been a major consideration. Search engines appear to favor long-form content, typically defined as articles or blogs that exceed 1,200 words. These allow for in-depth discussions that help build your authority and increase your engagement.
Human writers often find long-form content development challenging. Researching and drafting articles of the needed length and quality can take much time and effort. Aside from ensuring the accuracy of the content and the quality of writing, content developers must also consider on-page optimization factors such as keyword density, media, and internal linking.
This has now all been made easier through generative AI. In this piece, we're exploring Junia – an AI writing tool that is geared towards long-form content that ranks well in search engines.
Junia Key Features
Junia offers a comprehensive set of features to help you generate search-optimized content. These include:
AI Blog Writer – With the AI Blog Writer, Junia can help you generate content ideas, perform keyword research, create outlines, and generate content. You can start creating content using templates such as blog posts, product descriptions, or social media posts. The Writer can generate content up to 6,000-words long.
AI Blog Rewriter – You may also have existing content that haven't been ranking well in SERPs. You can use Junia's AI blog rewriter to improve on it. It can help you lengthen the piece with more in-depth discussions, and integrate keywords and media to get it to rank higher.
AI Image – Using text prompts, you can generate images that you can use as feature images or supporting graphics for your content.
Brand Voice – Junia also allows you to avoid having generic and bland AI-written content. You can customize the style and voice used in the writing through prompts or by learning your own style through existing content that you've produced.
How Junia Works
Junia is available as browser-based application. From the home page, you can sign up using a Google Account or any email. Upon successful login, you'll be directed to the Dashboard. It shows you the various features and actions that you can select to start your workflow.
Let's try creating a blog post by clicking on the template or the AI Blog Writer. This will bring up the SEO Blog Post Workflow. In this step, you can enter a Topic, search for keywords using the Keyword Explorer, enter or generate a headline, select SEO competitors or at most five reference articles.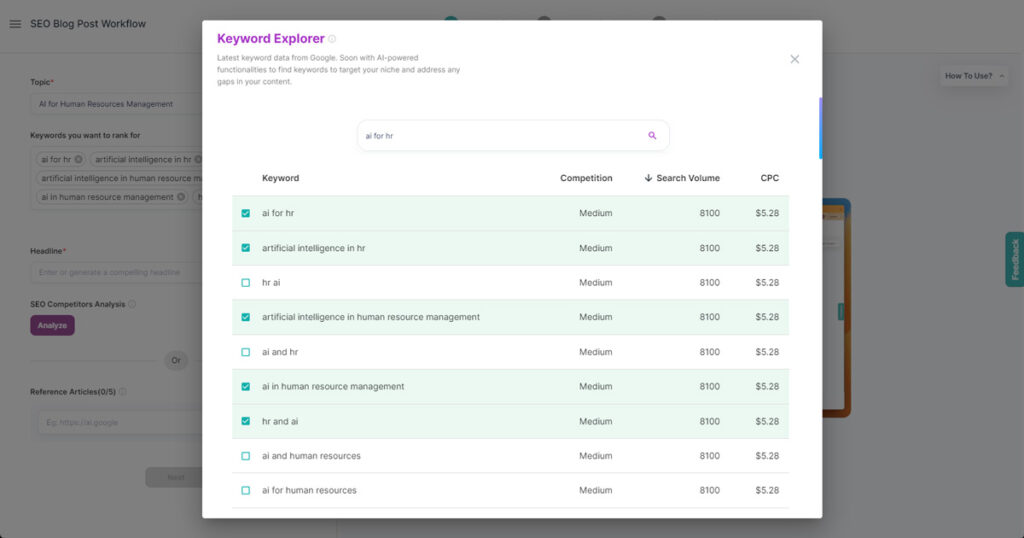 Clicking the Next will prompt you to calibrate your content. You can enter the style or tone of voice that you want and the length. You can also add some other instructions for the AI to follow, like what other content you'd like to be added and even some background or context that you wish to be included. It will then generate an outline about the topic you entered.
You can modify the generated outline by adding subtopics, reordering them, or changing the hierarchy. It still leaves you with plenty of control on how you can structure your content before it generates each subheading. Once you're satisfied with the outline, you can start generating the article.
Once generated, you can further customize the article using the editor. From here you can improve on keyword density and integration, generate additional content, add AI-generated images (or even source from public domain stock images), and add SEO metadata.
To export, you can copy the article as plain text, markdown, or HTML. It also integrates with WordPress, in case you use it as a CMS.
How Junia Performs
One of the criticisms against most AI writing tools is accuracy. Even with GPT4, we believe that you'd still have to review and edit the resulting work. For instance, the outline seems to be derived from the sources and/or competing articles that you've identified. It's best to check the order and organization of the ideas to make the piece flow logically and smoothly.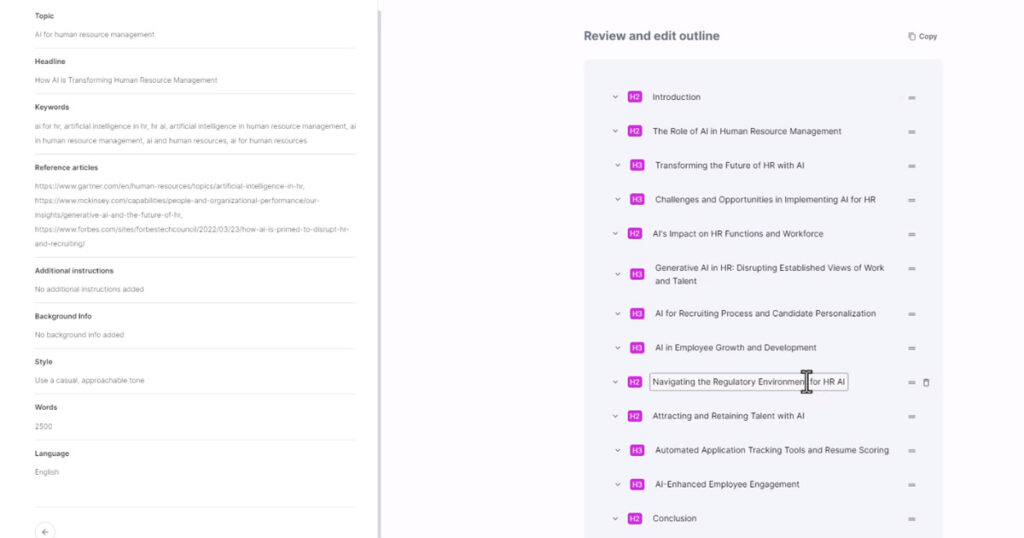 You can choose to use GPT4 as LLM that Junia will use when generating content if you'd want to have a more accurate and human-like results. However, this is often slower generation. It took Junia a couple of minutes to generate our sample article. Training Junia with your brand voice also results in a more personalized tone.
We also noticed that formatting can be inconsistent. Keywords and terms can be either in italics or bold. Items in bullets and lists can have inconsistent hierarchies too.
The ability to add media for decorative purposes or as support for the content is particularly useful. However, you may also find them to be inaccurate at times. Image generators still find it hard to generate photorealistic and anatomically correct hands, for example.
These said, Junia is among the stronger AI writing tools we've tested so far. At least, the heavy lifting like research, outlining, and drafting has been handled by the tool. Having SEO tools such as keyword research, competitor analysis, and internal linking baked into the workflow saves plenty of time.
Pros and Cons
Here are some of the advantages and disadvantages of Junia:
Pros
Cons
– Offers a comprehensive set of tools and workflow for content writing and SEO
– AI image generator is convenient
– Allows for long-form content generation (up to 6,000 words)
– Can work with 30+ languages
– Has a free tier
– Outlines and output still need editing to ensure logical flow, accuracy, and formatting
– AI-generated image may not be as polished as other dedicated tools
Pricing
You can try out Junia for free but with limited features. You can opt for the paid plans. There's the Creator tier costs $22 monthly or $19/month paid annually. It gives you access to 100,000 words generated and 10 blog post workflows per month and access to GPT-4. The pricier Unlimited tier costs $42 monthly or $32/month paid annually. You can generate unlimited words using GPT-3.5 and 100,000 using GPT-4. You also get 35 blog post workflows.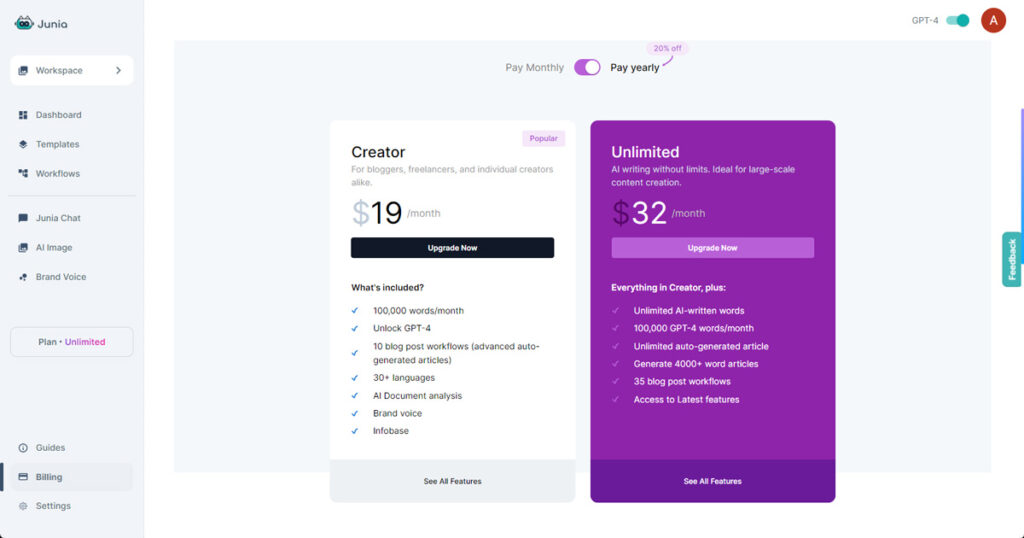 About Junia.AI
Junia launched on April 5, 2023 and has grown since. Since June, the service now has 25,000 users. The company was founded by Yi Zhuang, an AI and SEO expert with six years experience as web consultant. Yi is also an open-source developer with his other projects clocking over 13 million downloads and used by major companies.
Conclusion
We are pleasantly surprised by Junia. There are a lot of AI writing tools out there but this is among the better ones we've tested. What we liked in particular is how the workflow is designed, as it follows pretty much the workflow for most writers and content developers. Having SEO tools baked into the workflow is an absolute time saver that it even had us second-guessing if we could trim other tools in our stack and just use Junia wholesale.

Alex Maximo, our editor, helps us bring added snap to our content. He has written and edited books and articles on technology education and digital enablement over the past two decades. He's a huge advocate of free and open-source software.