If you want to land a job these days, you need a stand out resume. But making one can be challenging. You have to know how to structure it well, what details to include, and how to style and format it. Using the best AI resume builders will give you the edge you are looking for.
These days, not only do you have to make sure that your resume can impress humans, you also have to anticipate that computers can effectively parse it too. That's because many employers now turn to applicant tracking systems (ATS) to select candidates. According to JobScan, nearly 99% of Fortune 500 companies, 66% of large companies, and 35% of small businesses use ATS.
So how does an ATS make job-seeking even more challenging? While it streamlines the recruitment process, it can cause competent job seekers to miss opportunities. ATS scans resumes for certain keywords. If it finds those keywords, the resume gets the green flag and the candidate scores an interview. If it doesn't, the resume can get passed over no matter how qualified the person is.
Fortunately, technology can help job candidates build resumes that can get the approval of humans and ATS alike. This is where artificial intelligence (AI) resume builders come in. AI resume builders help create an people and ATS-friendly documents. They can help you write a resume that doesn't slip through the cracks and cost you your dream job.
Let's see how they work and go over the popular AI resume builder services and platforms available today.
What is an AI Resume Builder?
An AI resume builder is a software application that uses AI to help job seekers create or enhance resumes. Users can simply choose a template and input their personal information, skills, and experience. The AI then analyzes the data to generate a resume with the users' information. Users can then customize the document using suggestions generated by AI on how to improve the overall output.
Why Should I Use AI Tools to Build My Resume?
AI resume builders can be a valuable tool for many reasons. First, they can save you significant time by automatically generating resumes. Second, AI resume builders can improve your likelihood of getting a callback by ensuring that your resume is appropriate for the position you're applying for. Third, AI resume builders provide modern and professional resume templates so you can have a visually stunning resume without needing design skills.
Aside from these key benefits, AI tools bring the following advantages:
Resume optimization. AI resume builders can optimize your resume with keywords hiring managers are looking for from the resumes of the candidates applying for your target position. This can help your resume get the green flag from applicant tracking systems (ATS).
Professional resume formatting. AI resume builders can automatically format your resume in a way that is easy to read and scannable.
Comprehensive feedback. AI resume builders can provide detailed feedback on your resume so that you can make necessary improvements and elevate your chances of getting a job offer.
However, it is important to note that AI resume builders do not replace human judgment. You should still carefully review an AI-generated resume and make sure that it is accurate and error-free. Additionally, you should not rely on AI resume builders alone to get hired. You should also practice your craft, hone your skills, grow your professional network, and prepare to answer interview questions eloquently.
AI resume builders can only do so much to polish your job application, but it's still your own effort and credentials that will determine your future in the job-hunting process.
6 Best AI Resume Builders in 2023
There are several services and platforms that you can use to generate a standout resume. Here is our list of the best AI resume builders available today:
Zety Resume Builder (Formerly UpToWork)
Zety Resume Builder is a free AI-powered tool for creating a standout resume in minutes. It offers a generous selection of modern, professional, and scannable resume templates as well as more than 500 resume samples for 500+ professions.
This tool isn't only for building a resume, but also for creating a longer and more comprehensive curriculum vitae (CV) and cover letter. Zety has over 18 CV templates and 20+ cover letter templates. Considering those, Zety Resume Builder practically does all the work you need to prepare your job application documents.
If you want feedback on your existing resume, Zety can provide that as well. Their Resume Checker scores your resume based on metrics such as completeness, word choice, typos, and more. In addition, it scans for grammatical mistakes, punctuation errors, and misspelled words. Zety will also offer tips on the skills and keywords you should include in your resume along with advice on how to best phrase every sentence.
Pros and Cons
Pros
Cons
Free
Provides a vast selection of resume templates and examples
Comes with a built-in Resume Checker that automatically scans for errors and other areas of improvement
Checks how your resume will perform in ATS
Fixes your resume and customizes it for the job you want
You need to create an account to use the tool
The free version can only download your resume in Plain Text format (.txt)
Some templates may interfere with ATS
Auto-renews to a paid subscription if you don't cancel your free trial in 14 days
Pricing
You can create an account and use Zety's resources for free, but downloading your resume in a format other than Plain Text costs $2.70. Paying this amount will also give you a full access pass for 14 days.
If you don't cancel your free trial before it expires, Zety will automatically charge your account $24.70 every four weeks. But Zety offers a cheaper way to enjoy all its perks, which is an annual subscription that costs $71.40 per year.
MyPerfectResume
MyPerfectResume is a resume, CV, and cover letter builder with over 800 free templates and samples. It allows you to create an outstanding resume in just three steps. You just select a template, fill out the resume with personalized content recommendations, and then download the finished product.
What's awesome about this tool is that it asks you how many years of experience you have before presenting the templates you can use. MyPerfectResume does this to ensure that your options are only designed for professionals with your experience level, helping you save time trying to choose from hundreds of templates.
You can choose between uploading your existing resume to the software or creating one from scratch. If you upload an existing resume, it will parse the document and automatically fill out your chosen template. But you're still free to make edits. Either way, MyPerfectResume has an easy-to-use interface for filling out your chosen template.
Pros and Cons
Pros
Cons
Easy-to-use and straightforward
Generates templates based on your experience length
Templates are customizable and you can add sections
Auto-fill feature
Helps correct errors and provides content recommendations
Rates the strength of your resume
No auto-renewal
Charges a small fee to download your resume
Doesn't provide industry-specific templates
Limited customization options
No importing feature
Pricing
MyPerfectResume offers a 14-day free trial but some features may be locked. Its starting price, however, is highly affordable at just $5.95 for three months. You can also opt for an annual subscription, which slightly increases your monthly outlay to $7.95.
Rezi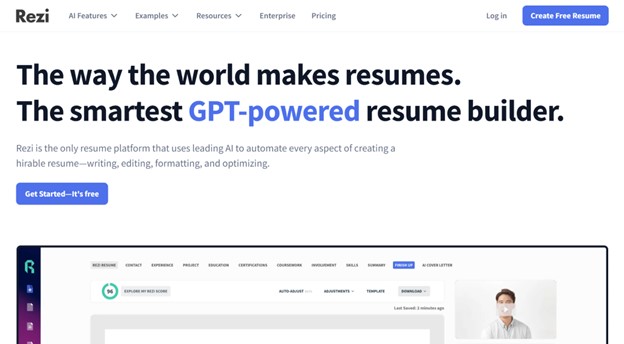 Rezi is a resume builder powered by a generative pre-trained transformer (GPT).
Some of Rezi's most advanced features include the AI Bullet Point Writer, AI Resume Summary Generator, and AI Keyword Targeting, to name a few. The AI Bullet Point Writer completely eliminates the manual process of outlining specific sections in your resume. All you need to do is type in your role, and Rezi's AI writer will outline the responsibilities and accomplishments typically associated with your role. If you don't find the output quite accurate, you can make it regenerate a new one, just like you would with ChatGPT.
The AI Resume Summary Generator, as its name states, automatically writes a compelling summary using AI. The output is based on the highlights of your resume, fits your target position, and formatted professionally. It also provides feedback on your resume and helps optimize it for ATS.
Lastly, the AI Keyword Targeting scans your existing resume to evaluate it against the criteria that hiring managers are looking for using ATS. Once it identifies potential keywords, Rezi will optimize your resume to make it pass the ATS' inspections.
Pros and Cons
Pro
Cons
Automatically fills your resume with vital details
Targets keywords to help your resume stand out in ATS
Provides a decent selection of professional resume templates
Offers a free plan
Template library has generic designs
Payment is required to access all features
Free and lifetime subscriptions doesn't include a free resume review
Free version has a 3-download limit
Pricing
Rezi's AI Resume Writer, AI Resume Editor, and AI Resume Summary Writer are all available in the free plan. To access AI Keyword Targeting and other advanced features, you may choose between the Pro plan, which costs $29/month, or the Lifetime plan, which charges a one-time fee of $129. However, the Lifetime plan doesn't give you unlimited AI credits.
Resumecheck
Resumecheck harnesses the power of GPT-4, the latest in the GPT model series, to create resumes optimized for ATS. It intensively tests resumes and cover letters and performs full grammar corrections, skills adjustments, and structure readjustments. It also provides substantial summary options for your resume and LinkedIn profile.
In addition, Resumecheck gives you recommendations and suggestions concerning over twenty criteria to improve your resume. It allows you to address common errors like typos, repetitive verbs, and other avoidable blunders that can cost you an interview.
Pros and Cons
Pros
Cons
Offers a free version
Identifies common mistakes like grammatical errors, misspelled words, and formatting issues
Generates completely new sections
Provides a comprehensive feedback on your resume
Suggest changes in the resume's structure
The free version only uses GPT-3
The free version lacks many advanced features
No premade resume templates
Pricing
Resumecheck is free to use, but to get a comprehensive AI resume check, you'll have to pay a one-time fee of €7.90. This price allows you to leverage Resumecheck's GPT-4 model to enhance your resume and discover issues, as well as to create up to 2 AI-generated cover letters. You can also get a full resume check and a cover letter check for €14.90.
Kickresume
Kickresume is also a GPT-powered resume builder. Using OpenAI's GPT-4, Kickresume provides users with an AI Wizard which is essentially a chatbot that collects relevant information like a pre-interview. It also offers templates based on the information it was given. It can then enhance your resume with pre-written phrases for over 3,200 jobs and improve its visuals with stunning templates
These pre-written phrases can help you overcome writer's block when you're creating specific sections in your resume, such as the work experience. Kickresume's AI writer can produce a relevant and FOMO-inducing work experience section for your target job.
You can also find out your resume's score, which Kickresume calculates based on the successful resumes in their database. It will also provide a detailed resume report with personalized tips on how you can enhance it.
Another awesome feature of Kickresume is the Website Builder, which turns your resume into a personal website. This can increase your visibility and help hiring managers appreciate your creativity.
Pros and Cons
Pros
Cons
Free to use
The free plan allows unlimited downloads
The free plan includes the website builder
Creative templates
Substantial database of pre-written phrases for specific job titles
More than 1,500 resume samples
You need the paid version to access more templates for your resume and website
The free version limits certain resume sections to subsections only
Template selection is relatively few
Pricing
Kickresume has two paid subscription plans: monthly and yearly. The monthly plan costs $9/month, with access to more than 35 resume templates, 7 website templates, full customization, the AI resume checker and writer, and the Kickresume mobile app. On the other hand, the yearly subscription is only $36/year, which cuts down your monthly spending to just $3. It includes all features in the monthly plan and you can give up to 5 of your friends one month of Kickresume premium.
MajorGen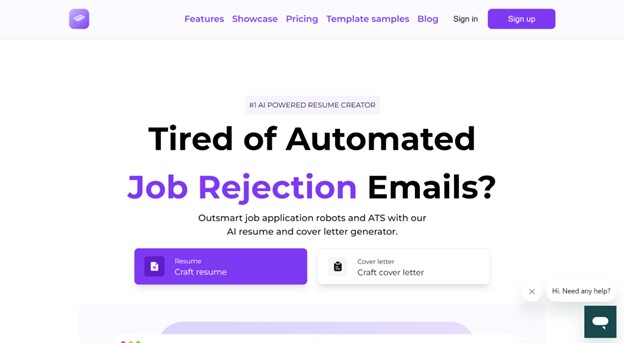 The sixth and last AI resume builder on our list is MajorGen, a powerful tool that allows you to use GPT-4 and ChatGPT technology to write excellent resumes and other documents. It can also create a compelling resume just by scanning your LinkedIn profile.
MajorGen writes resumes in different ways: using information from your old resume, importing your LinkedIn profile, or starting from scratch. If you choose the last option, you only need to enter basic information such as your job details and experience, among others, and MajorGen will produce a new resume based on it. MajorGen will also refine your resume and ensure that it will fall into the "yes" pile of ATS.
Pros and Cons
Pros
Cons
Uses GPT-4 and ChatGPT technology
Builds, edits, and optimizes your resume in various ways
The AI writer generates content customized for job descriptions
Supports LinkedIn profile importation
Limited and generic templates
No free plan
Pricing
MajorGen offers two paid plans: basic and pro. The basic plan costs €2/month, and it includes 5,000 AI credits for creating a resume. However, it can only produce up to five resumes and cover letters. If you need more options, the pro plan, which costs €5/month, will give you 10,000 AI credits and allow you to create an unlimited number of resumes and cover letters. You can also access different language settings and all professional resume templates.
How Do AI Resume Builders Work?
Even if all the AI resume builders in the market work differently, they ultimately follow the same process to deliver an output that accurately meets your needs. Generally speaking, these are the steps they take in creating a resume:
Step 1: The user inputs their data. You give the AI your personal information, education, work experience, skills, and any other relevant data. You can also upload your existing resume.
Step 2: The AI analyzes your data. It identifies your skills and experience and the relevant keywords to your target job.
Step 3: The AI generates a resume based on your provided information. The resume will be formatted professionally and will use relevant keywords so that it's picked up by an ATS.
Step 4: You review and edit the generated resume. Even if the AI has already created a fine-tuned resume, the output isn't perfect 100% of the time. You can tweak as needed and consider the AI's suggestions to improve your resume further.
Speaking of imperfections, AI resume builders can still make mistakes, especially when it automatically fills out a template based on a resume you uploaded. It may display incorrect information on addresses, work locations, timelines, contact details, and names. Such mistakes may be due to several bits of similar details in your resume or certain layouts; in that case, the AI may get "confused" and fill the template with inaccurate information.
Still, AI resume builders are a valuable tool for job seekers. Just keep in mind that it is not foolproof and your careful attention is still essential in creating a resume that gets you noticed.
Are AI Resume Builders Legal?
Yes, AI resume builders are legal. No law specifically prohibits using AI tools for creating resumes, CVs or cover letters. However, you should make some ethical considerations when using AI resume builders. For example, you should always double-check the output it generates to ensure that it is not false or misleading. You should also check if it's not plagiarizing someone else's resume.
To ensure that your AI-generated resume isn't going to cause problems, here are some tips for using AI tools ethically:
Be honest. Use the AI resume builder to highlight your actual skills and experience, not to create a misleading resume.
Avoid plagiarism. You may take inspiration from others' work but don't downright copy it.
Review and edit the resume. Treat the AI resume builder as a tool, not a replacement for your judgment. It remains crucial to review and edit any AI-generated resume to ensure that it accurately represents you.
Note these tips to get the most out of AI resume builders ethically and improve your chances of getting hired.
AI Resume Builders Comparison Table
To summarize the key details of the AI resume builders on our list, you may refer to this comparison table.
| | | | |
| --- | --- | --- | --- |
| Ai Resume Builder | Cost | Free Version Available | Best For |
| Zety | $24.70 every four weeks; $71.40 per year | Yes, but downloading your resume in another format costs $2.70 | 500+ professionsJob seekers requiring significant resume improvements |
| MyPerfectResume | $5.95 for three months; $7.95/mo for an annual subscription | Yes | Job seekers requiring a quick resume revamp |
| Rezi | $29/month or $129 for a lifetime plan | Yes | Creating a resume from scratchJob seekers who lack confidence in their writing skills |
| Resumecheck | €7.90 for a full resume check; €14.90 for a full resume + cover letter check | Yes | Job seekers who need to optimize their resumes and LinkedIn profilesJob seekers requiring a comprehensive resume feedback |
| KickResume | $9/month; $36/year | Yes | 3,200+ professionsJob seekers who need assistance in describing their experiencesJob seekers who want to showcase their level of expertise through illustrationsJob seekers who want extra visibility online |
| MajorGen | €2/month for a basic plan; €5/month for a pro plan | No | Job seekers who need to optimize their resumes and LinkedIn profilesJob seekers willing to pay a fee to enhance their resume |
Feature-wise, KickResume is the best AI resume builder on this list. It offers the most unique set of templates and allows free users to create a website. But as with most tools on this list, it requires you to upgrade to a paid version to unlock advanced and essential features. The free version only allows up to two subsections in the Work Experience, Skills, Strengths, and Hobbies sections.
Considering that, you can opt for MyPerfectResume to be able to create or enhance your entire resume for free. The free trial gives you access to all templates and doesn't limit how many sections and subsections you can create. It also offers an impressive selection of templates, although it lacks the creative and somewhat playful element KickResume's templates provide.
The Role of AI in Job Applications in the Digital Age
With the job market filled with millions of hopefuls, AI resume builders can help job seekers stand out in the talent pool in a way that is less daunting that using exclusively prompt engineering.
AI resume builders analyze your skills and experience and identify the keywords relevant to your target job. It uses this information to develop an enhanced resume, helping you gain a competitive advantage. An AI resume builder can do all of that in a few minutes, saving you a lot of time and effort.
In addition, AI resume builders can boost your chances of getting hired providing comprehensive feedback and enhancement suggestions. It can also spot common errors like typos, punctuation mistakes, grammatical blunders, etc.
But there are a few drawbacks to using AI resume builders. For example, the AI may not be able to perfectly understand your skills and experience. In that case, you may have to review its output and make manual corrections. Furthermore, the available templates may be similar to those from other sources, affecting the uniqueness of your resume.
Ultimately, though, the benefits of using AI resume builders outweigh the drawbacks. It gives you a greater chance of getting noticed by hiring managers even if you're not confident in your writing skills. On the other hand, without an AI tool, you might spend too much time second-guessing every section of your resume, wondering if you've written them well enough. AI tools save you from this trouble, we definitely recommend using an AI resume builder if you reckon it will help elevate your chances of getting hired.
Sources
Bajaj, Aaina. "How Many Companies Use an ATS [Industry Market Share in 2023]." Gohire, September 16, 2022. https://gohire.io/blog/how-many-companies-use-applicant-tracking.
Forsey, Caroline. "The 15 Best Free Resume Builders We've Ever Discovered." HubSpot Blog, June 15, 2023. https://blog.hubspot.com/marketing/resume-builders.

A formidable prompt engineer, Dan Sanz blends a deep understanding of AI with practical insights into human-machine interaction. His work in prompt engineering in combination with years in the field of Data Science, are helping to redefine the possibilities for AI communication and engagement.